May 21st, 2018 at 9:48am |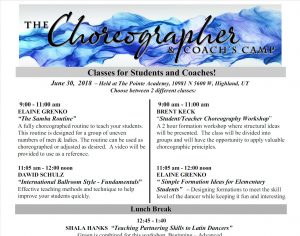 Click for flyer
See below for information about the Choreographer and Coach's Camp on June 30, 2018 in Highland. Teachers and students can register online here:
A camp especially designed for Ballroom Teachers & Formation Coaches including High School and College Students as well!
Saturday, June 30    9:00 – 5:30
The Pointe Academy, Highland UT
Teachers include:
Brent Keck
David & Natalie Schulz
Shala Hanks
Hope Jackson
Paul Winkelman
Krista Derington
Elaine Grenko
The camp is designed for both teachers and students:
If you are a Teacher or Director, you will receive a fully choreographed Samba Routine that you can use with your team or students.
If you are a High School or College Student, and would like to develop choreography or teaching skills, there is a special price for Students.
Enter a piece of Choreography in "The Choreographer Awards" event –  Recognition for top 2 in each category and Prize Money available!!
For more information on topics and pricing go here: